Welcome to Historic Occoquan, Virginia
& to HistoricOccoquan.com

Often duplicated. Never replicated.
Historic Occoquan is a community rich in history and consists of residents, artists, shops, restaurants, businesses, and a local town government. It's outdoor dining, ghost walks, town boat dock and more are located just 11 miles south of the Capital Beltway on I-95 at exit 160 and then north on Gordon Blvd/Rte 123 to Commerce Street. Directions to Historic Occoquan are available at Google Maps.
Occoquan is located at 38°40′58″N, 77°15′39″W and is accessible by car, boat, raft, bike, and foot traffic. Access is available by road, river and the East Coast Greenway.
Occoquan is also conveniently located just minutes from the Amtrak Auto Train stop in Lorton, VA. Unlike a plane or the car, the auto train provides onboard entertainment, a lounge car and a dining car as it takes both you and your vehicle on a stress free journey to Florida. So when you next consider a trip to Florida, please remember your opportunities of shopping and dining in Historic Occoquan before you depart or upon your return.
The Town of Occoquan can be explored by this aerial view where you can click on shops and business for more information or you can access an on-line map of the town which includes a little bit of history and is provided by the Business Guild of Occoquan. For even more history, the Historic Occoquan Self Guided Walking Tour has been made available with the permission of LaVerne Carson.
Read about the current masthead celebrating the Summer of 2018 in Historic Occoquan!

To keep informed of what is happening in Occoquan, click on the RSS icon to subscribe to Historic Occoquan's RSS Feed.
See Historic Occoquan Events on your iPhone or Android devices. Simply download an App like Feedly, RSS Reader, or one of the many RSS Android Apps.
If you use Chrome, you can download the Chrome App!
Historic Occoquan Community Events
for this month & Beyond
Historic Occoquan.com can now be viewed on your phone
by going to Historicoccoquan.mobi
Pictures of some of the Historic Occoquan Town Markers are now online. Read about some of the town history as more markers are added to the site.
If you would like to look more quickly for specific items, participating Occoquan Merchants and items that they provide can be found using the Google custom search feature below:
The "Just say 'Hi' Campaign"
Show your support for the "HistoricOccoquan.Com" website and help maintain the friendly Occoquan lifestyle. When next in town, don't forget to smile and say 'Hi". Having a sparkle in your eye is optional.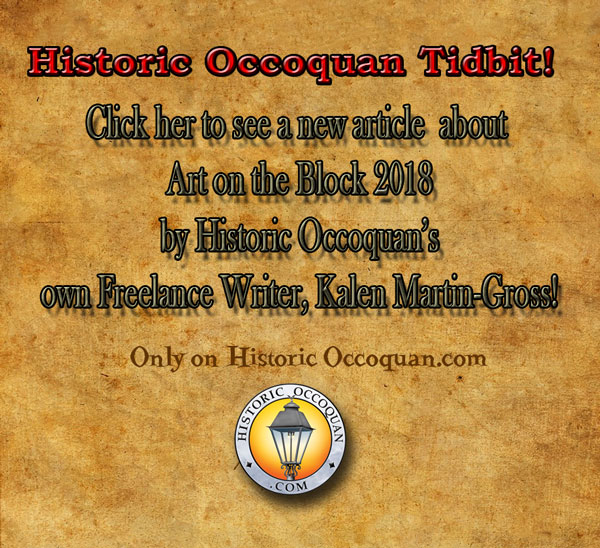 Local Poet Leo Smith now has some of his work on-line
The Historic Occoquan Theatre is now On-Line!
Watch events that have occurred in Historic Occoquan that you may have missed....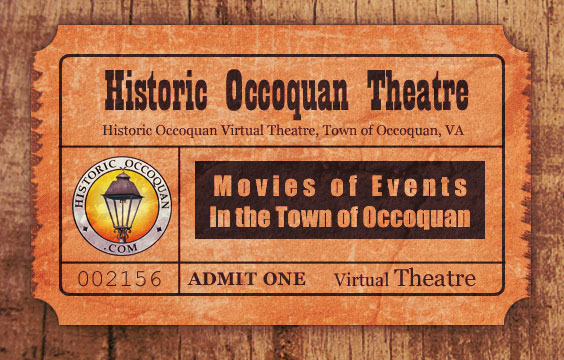 During the Month:
Spinaweb is featuring fabric woven in their shop that they make into fashionable clothing and boutique items. See their site for details.
Sincerely Yours Stained Glass Studio is holding classes to teach how to create a copper-foil stained glass panels of your choice. Call or Email to schedule.
The Preservation Station is providing -

Furniture Painting and Distressing Fun!

Learn the basics of restoring, painting, distressing and finishing furniture and home furnishings.
Classes are hands–on and include all supplies and your choice of a mirror, shelf or frame (etc.) to finish and take home.
Fee is $50 per person or $175 for a group of 5 ($35 each).

Free Chalky Painting Mini-Class

With any paintable purchase, receive small jar of TPS Chalky Paint w/brush and quick lesson. TPSCP is UV–protected for indoor or outdoor items. Available are mirrors, frames, baskets, architectural cast-iron and tin stars, shelves, wall art, candlesticks, bowls and (yes!) more— all from just $7.00!

Drop in Upcycling & Restoration Clinics

There's always something new going on!
Drop in (7 days 12 - 5pm) to get a list of current offerings.
Groups of 15+ possible w/ tea room.
All clinics are just $10 to $15 per (+tea if applicable) and most include all supplies and your finished item(s).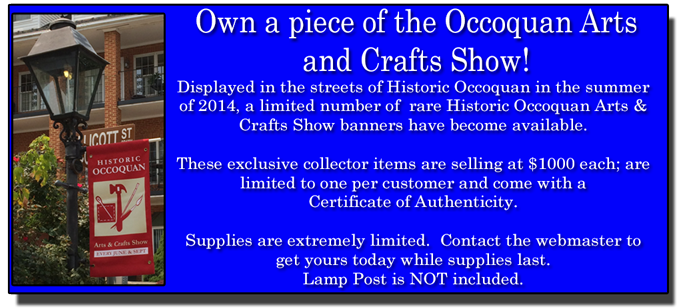 May 1 (Tuesday) - May 31 (Thursday)
Red Art and Design is having a Spring Cleaning Sale!

All art supplies and selected artwork is 20% off.
See their site for details
May 8 (Tuesday) - June 3 (Sunday)
Nature's Gift: Oriental Brush Paintings by Darlene Kaplan
The Loft Gallery is pleased to announce Darlene Kaplan will be their May 2018 featured artist. Darlene is an International Award Winning artist residing in Northern Virginia
Darlene is inspired by her desire to capture what nature provides during each season which she uses as her subject matter. Her art is all about creating beautiful strokes with emphasis on spontaneity and Chi (energy). Darlene's paintings are rendered on rice paper using Chinese water colors and ink.
The Loft Gallery is located at 313 Mill Street, Occoquan VA and is open

Tuesday - Friday 1100 Hours - 1600 Hours (11:00 AM - 4:00 PM)
Saturday 1100 Hours to 1700 Hours (11:00 AM - 5:00 PM)
Sunday 1200 Hours - 1700 Hours (12:00 PM - 5:00 PM)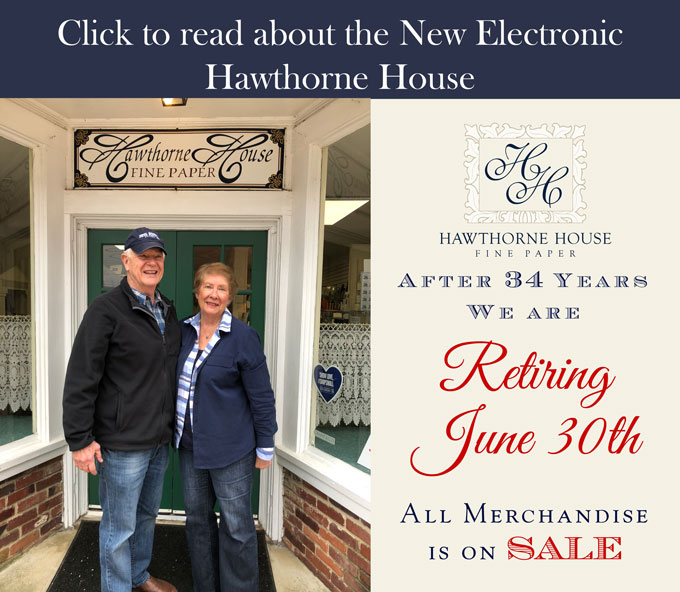 June 2 (Saturday)
June 3 (Sunday)
June 4 (Monday)
Vintage image transfer decorative wall art workshop at VanEch Studio

From 18:00 Hours to 21:00 Hours (6:00 PM to 9:00 PM)
Why not learn two amazing techniques in one workshop.
Create a take home wood plaque wall hanging painted in Miss Mustard Seed's Milk Paint, distressed and finished.
Then apply a vintage inspired vinyl image transfer.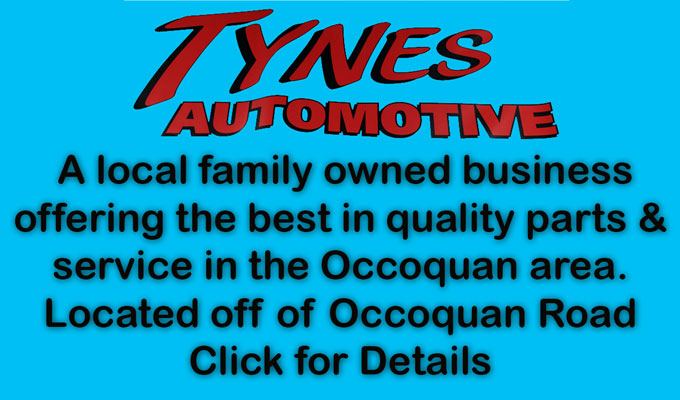 June 5 (Tuesday) - July 2 (Monday)

The exhibit features rare and unique works of art that include:

Watercolors and Mixed Media by Mary Rose Janya of Springfield, VA and
Wooden Boxes by Jon Kaufman of Fairfax Station, VA
The gallery is open 1100 Hours - 1700 Hours (11:00 AM – 5:00 PM) daily and

is located at 309 Mill Street in Historic Occoquan, VA.
For more information contact the gallery at 703-494-0584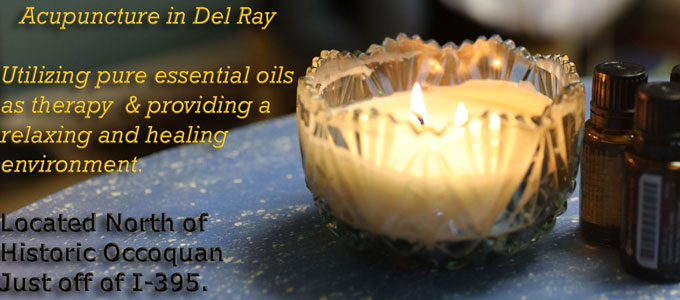 June 5 (Tuesday) - July 1 (Sunday)
Trees and Other Wood Stuff
The Loft Gallery is pleased to announce that Mike Flynn is their featured artist in June!
Mike Flynn is inspired by his desire to capture beauty and form found in trees and the textures of aging wooden structures. He paints landscapes and still-life, occasionally mixing different art media elements. Mike explores styles from loose brush work impressionism to detailed realism. The inspiration for Mike's paintings is often his travels to National Parks from coast to coast.
The Loft Gallery is located at 313 Mill Street, Occoquan VA and is open

Tuesday - Friday 1100 Hours - 1600 Hours (11:00 AM - 4:00 PM)
Saturday 1100 Hours to 1700 Hours (11:00 AM - 5:00 PM)
Sunday 1200 Hours - 1700 Hours (12:00 PM - 5:00 PM)

For more information, access their site or call (703) 490-1117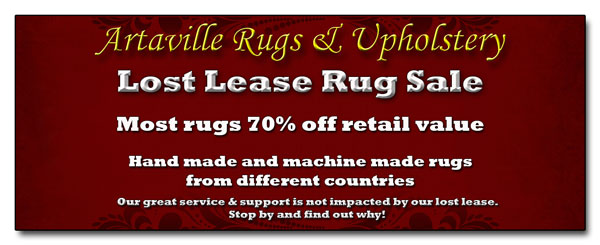 June 10 (Saturday)
The Loft Gallery in Historic Occoquan is hosting an Artist Reception!

From 13:00 Hours to 16:00 Hours (1:00 PM - 4:00 PM)
This is your opportunity to meet talented artist Mike Flynn.
The Loft Gallery is located at 313 Mill Street, Occoquan VA and is open

Tuesday - Friday 1100 Hours - 1600 Hours (11:00 AM - 4:00 PM)
Saturday 1100 Hours to 1700 Hours (11:00 AM - 5:00 PM)
Sunday 1200 Hours - 1700 Hours (12:00 PM - 5:00 PM)
June 17 (Sunday)
A Backyard Barbecue at Madigan's Waterfront

From 11:00 Hours to 18:00 Hours (11:00 AM - 6:00 PM)
Treat your father to a relaxing & delicious BBQ on their deck with the whole family!
They will be grilling hot dogs, BBQ chicken and BBQ ribs!
TThe platters will include homemade coleslaw & potato salad!​​​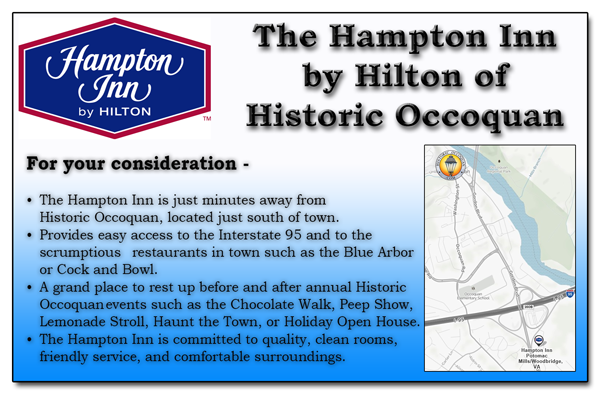 Prince William County Community Alert Networkspan>
In an emergency situation, PWC will send important alerts, notifications and updates right to your e-mail and mobile device(s). Registration is free at the
PWC site.
If you are a resident of Prince William County, registration with the County's Community Alert Network will allow you to receive county alerts on your mobile phone.