Welcome to Historic Occoquan, Virginia
& to HistoricOccoquan.com

Often duplicated. Never replicated.
Historic Occoquan is a community rich in history and consists of residents, artists, shops, restaurants, businesses, and a local town government. It's outdoor dining, ghost walks, town boat dock and more are located just 11 miles south of the Capital Beltway on I-95 at exit 160 and then north on Gordon Blvd/Rte 123 to Commerce Street. Directions to Historic Occoquan are available at Google Maps.
Occoquan is located at 38°40′58″N, 77°15′39″W and is accessible by car, boat, raft, bike, and foot traffic. Access is available by road, river and the East Coast Greenway.
Occoquan is also conveniently located just minutes from the Amtrak Auto Train stop in Lorton, VA. Unlike a plane or the car, the auto train provides onboard entertainment, a lounge car and a dining car as it takes both you and your vehicle on a stress free journey to Florida. So when you next consider a trip to Florida, please remember your opportunities of shopping and dining in Historic Occoquan before you depart or upon your return.
The Town of Occoquan can be explored by this aerial view where you can click on shops and business for more information or you can access an on-line map of the town which includes a little bit of history and is provided by the Business Guild of Occoquan. For even more history, the Historic Occoquan Self Guided Walking Tour has been made available with the permission of LaVerne Carson.
Read about the current masthead celebrating Christmas in Historic Occoquan

To keep informed of what is happening in Occoquan, click on the RSS icon to subscribe to Historic Occoquan's RSS Feed.
Historic Occoquan Community Events
for this month & Beyond
Historic Occoquan.com can now be viewed on your phone
by going to Historicoccoquan.mobi
Pictures of some of the Historic Occoquan Town Markers are now online. Read about some of the town history as more markers are added to the site.
If you would like to look more quickly for specific items, participating Occoquan Merchants and items that they provide can be found using the Google custom search feature below:
The "Just say 'Hi' Campaign"
Show your support for the "HistoricOccoquan.Com" website and help maintain the friendly Occoquan lifestyle. When next in town, don't forget to smile and say 'Hi". Having a sparkle in your eye is optional.
Local Poet Leo Smith now has some of his work on-line
The Historic Occoquan Theatre is now On-Line!
Watch events that have occurred in Historic Occoquan that you may have missed....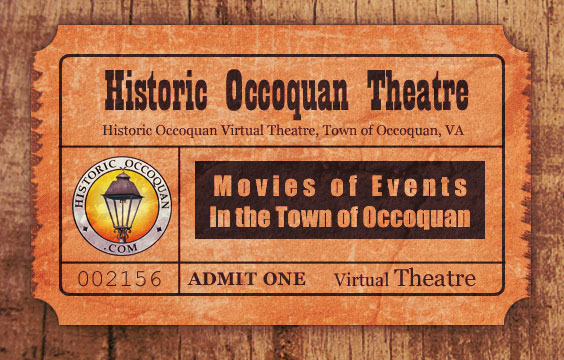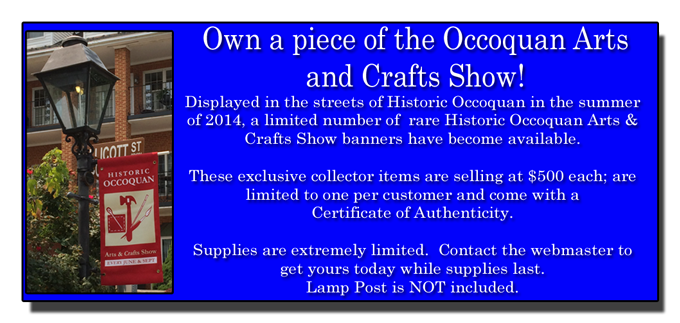 Occoquan Guild Selects Rockledge Mansion for the Virginia Executive Mansion Christmas Tree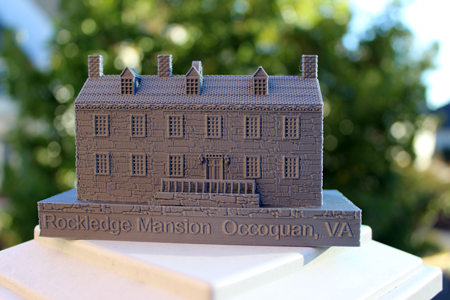 Historic Occoquan was one of several Virginia localities selected by Virginia Governor Terry McAuliffe to submit a handcrafted ornament for the 2016 Executive Mansion Christmas tree. The theme selected by the Governor for this special occasion is "Home for the Holidays."
The Occoquan Business Guild commissioned local artist Vicky Somma to design an ornament that is representative of Occoquan's rich history.
In 2014Somma designed an ornament depicting the Library of Congress that was displayed on the Christmas tree in the East Wing of the White House.
For the 2016 tree, Somma devoted her time and energy to designing the Rockledge Mansion, a historic Georgian home that was built in 1758 from stone at the request of John Balladine, a wealthy local industrialist. William Buckland, a master builder and colonial Chesapeake architect, helped Balladine complete this historic project because they were interested in making Occoquan a port and industrial town. This mansion on 9.9 acres of land was home to various entrepreneurs and in 1973 Rockledge Mansion was added to the National Register of Historic Places.
The ornament is a 3-D model that is made of grey and silver plastic and displays the mansion in its entirety. Ms. Somma has been constructing 3-D ornaments and other pieces for the past couple of years. She is a computer programmer who was born and raised in Occoquan. Somma's father, mother and grandparents have lived in Occoquan since1976. Somma spent three weekends working on the 3-D ornament, which included taking photographs and mathematical measurements of the historic building.
The mansion was restored and serves as a venue for weddings and other occasions to this day. The Governor's Executive Mansion Christmas tree will be on display in the Executive Mansion ballroom throughout the holidays.
For more information about the ornament, Ms. Somma or the Occoquan Guild, please contact, Laverne Carson at lavcarson@aol.com. She can also be reached at 703-201-8499.
During the Month: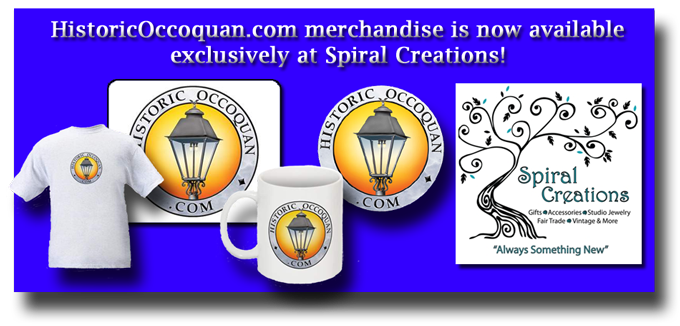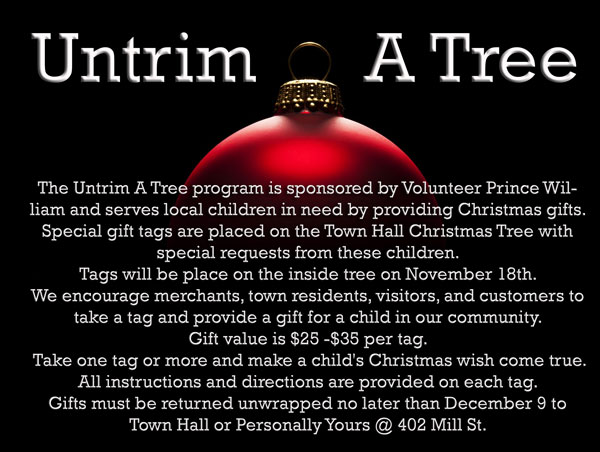 December 1 (Thursday) - December 31 (Saturday)
Art A La Carte Gallery artist of the Month - Paula Wulff in Celebrate the Season!

Celebrate the Season with us at Art a la Carte. Glass artist, Paula Wulff, will be on hand to personalize her work by inscribing a message of your choice. The perfect choice for your seasonal gifts!
ART A La Carte, an artist-owned cooperative gallery and gift boutique, opened August 1, 2010. It showcases the work of 26 top artists producing a kaleidoscope of gift items including photography, original fine art and prints, one-of-a-kind glass items, jewelry, wood work and textiles. Artists are juried and selected for their edgy vision that compliments the personality of the gallery.
Gallery Hours: 11:00 Hours to 17:00 Hours (11:00 AM to 5:00 PM) 7 days a week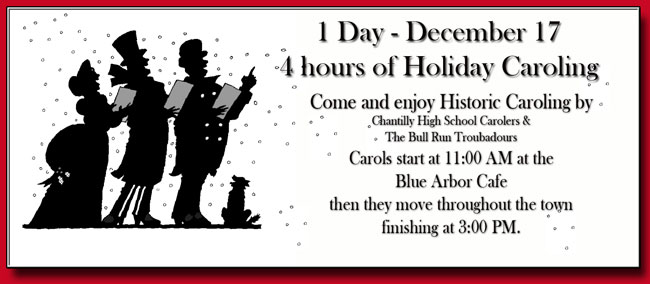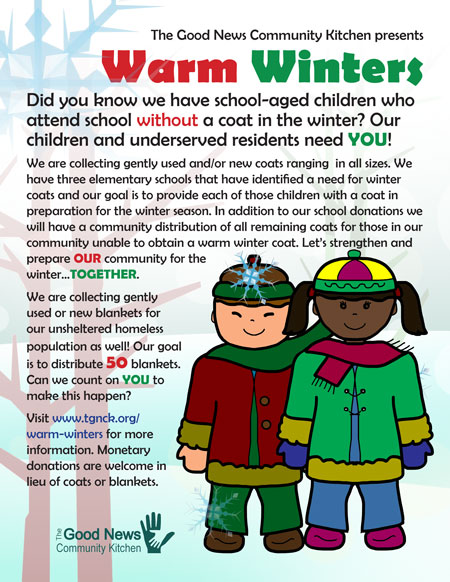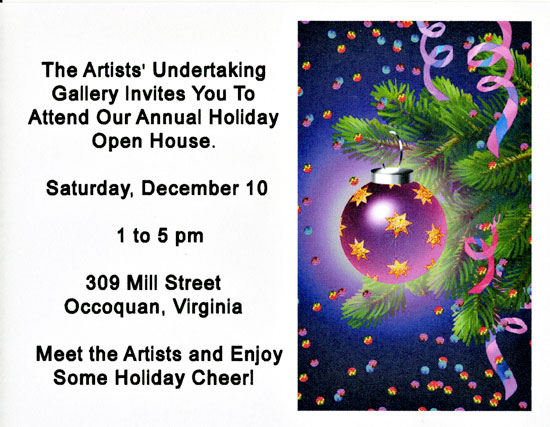 December 6 (Tuesday) - January 2 (Monday)
Art of the Seasons
The exhibit features rare and unique works of art that include:

Mixed Media by Lauren Jacobs of Woodbridge, VA and
Fused Glass by David and Dale Barnes of Sterling, VA
The gallery is open 1100 Hours - 1700 Hours (11:00 AM – 5:00 PM) daily and

is located at 309 Mill Street in Historic Occoquan, VA.
For more information contact the gallery at 703-494-0584
December 6 (Tuesday) - December 31 (Saturday)
Scapes and Sculptures
The Loft Gallery is pleased to announce the exhibition of new works featuring pastel artist, Teresa T. Brunson, and wood artist, George Jones III. They will be the gallery's featured artists in December and we invite you to attend the reception and view their show, "Scapes and Sculptures."

Meet the award-winning pastel painter Teresa T. Brunson and experience her distinguished landscape paintings that captivate the heart. Teresa travels across the country to unearth quiet, engaging scenes from varied terrain and outdoor adventures that create aspect and depth to her paintings. Bright colors mix with intriguing line work to illicit details in fascinating ways. Viewers are drawn into perspectives of nature as Teresa gives voice to scenery that result in a calmness within as if having witnessed nature directly.
George began the craft of woodturning 14 years ago. Since then he has studied with a number of internationally renowned wood artists, and for six consecutive years studied at the Arrowmount School of the Arts in Gatlinburg, TN. Exposure to artists working in other media at the school has allowed George to develop a unique perspective by incorporating some of these techniques in his work. Each of the artist's pieces is unique, from bowls to wall art and tell a story. It is his hope that the love and fulfillment from creating each piece is apparent and brings enjoyment to those who see them. George became a member of the American Association of Woodturners and Capital Area Woodturners in 2002, and is a current board member of the Vietnam Veterans of America, Chapter 227.

For further information call The Loft Gallery 703-490-1117.
The Loft Gallery is located at 313 Mill Street, Occoquan VA and is open

Tuesday - Friday 1100 Hours - 1600 Hours (11:00 AM - 4:00 PM)
Saturday 1100 Hours to 1700 Hours (11:00 AM - 5:00 PM)
Sunday 1200 Hours - 1700 Hours (12:00 PM - 5:00 PM)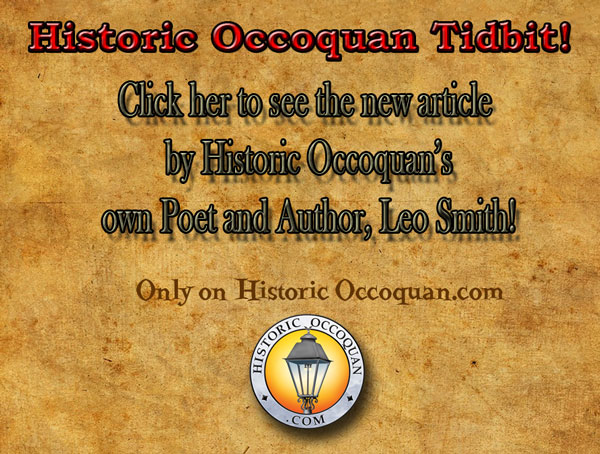 December 6 (Tuesday)
Another action packed Town Hall meeting starting at 1900 Hours (7:00 PM)

Open your wallets and lock down your property... go see what they are up to at Town Hall.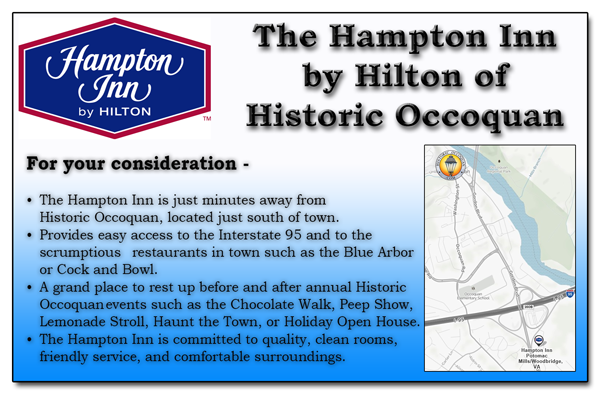 December 10 (Saturday)
The Artists' Undertaking Gallery in Historic Occoquan is hosting their Annual Holiday Open House!

From 13:00 Hours to 17:00 Hours (1:00 PM - 5:00 PM)
Stop in and meet the artists who create such fantastic creative art!
The gallery is open 1100 Hours - 1700 Hours (11:00 AM – 5:00 PM) daily and

is located at 309 Mill Street in Historic Occoquan, VA.
For more information contact the gallery at 703-494-0584

The Loft Gallery in Historic Occoquan is hosting a Meet the Artist Reception

From 13:00 Hours to 16:00 Hours (1:00 PM - 4:00 PM)
The Loft Gallery invites you to meet their vibrant artists: Teresa T. Brunson & George Jones III.
You can also see their fabulous work while at the reception....
The Loft Gallery is open

Tuesday - Friday 1100 Hours - 1600 Hours (11:00 AM - 4:00 PM)
Saturday 1100 Hours to 1700 Hours (11:00 AM - 5:00 PM)
Sunday 1200 Hours - 1700 Hours (12:00 PM - 5:00 PM)
December 26 (Monday) - December 30 (Friday)
The Golden Goose is having their After Christmas Sale!

Retired Department 56 Villages and Snowbabies in stock on sale at 40% off ticket price. Selected tree ornaments and Home Decor items 40% off ticket price.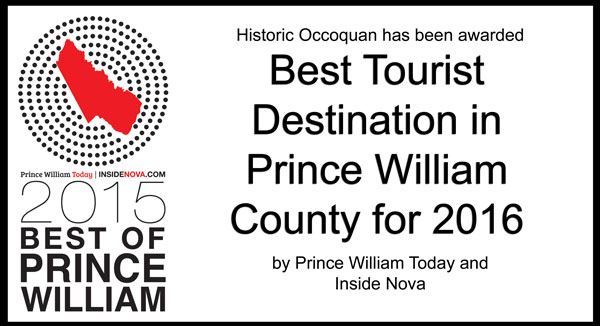 Prince William County Community Alert Network
In an emergency situation, PWC will send important alerts, notifications and updates right to your e-mail and mobile device(s). Registration is free at the PWC site.
If you are a resident of Prince William County, registration with the County's Community Alert Network will allow you to receive county alerts on your mobile phone.